We recently Certified suspension and wheels on this Holden Maloo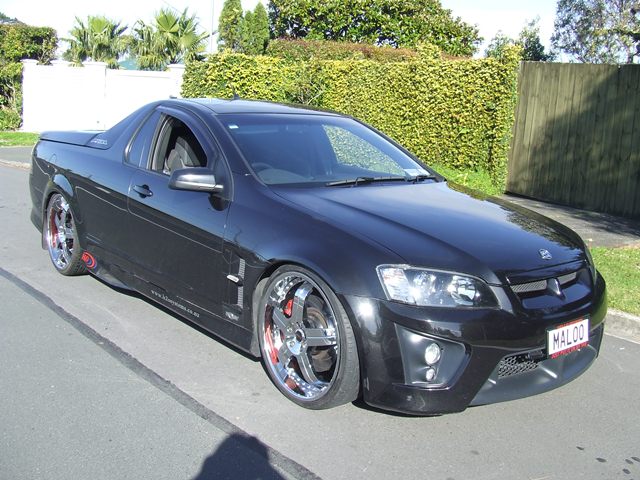 Holden says-
"The Maloo R8 is a car that makes a statement when it's are standing still and even more so when it moves."
Wikipedia says
"The HSV Maloo is a performance coupe utility which has been produced by Holden Special Vehicles since October 1990. All versions of the Maloo have been based on the mainstream Holden Utes, but have featured high-performance V8 engines and body kits.[1] In June 2006, a regular production item Z-series Maloo R8 broke the record for the world's fastest production utility/pickup truck, at 271 km/h, (168 mph) beating the previous record holder, a Dodge Ram SRT-10 by 22 km/h.[2]
The name 'Maloo' is also Aboriginal for 'thunder'. HSV's former Managing Director, John Crennan, coined the name for the vehicle from a book of Aboriginal place names.
It answers the question that some people still ask-
"Why modify a vehicle? The manufacturers must know best"
The answer is that not all people want the same thing-
Holden figured out that utes are not all used for carrying stuff.
Holden decided to make a MUSCLE CAR with a 6.0-litre V8, 307Kw, 6 speed box, sports tuned suspension, that just happens to be a Ute! (but with only 500Kg payload)
The Maloo is clearly NOT the Ute for Barry Crump to drive around the farm tracks then!
THIS Maloo is modified even further by Mag & Turbo Wharehouse North Shore, with HSD adjustable platform struts, 22 x 8 1/2 wheels and 245/30ZR22 tyres front, 22 x 9 1/2 wheels with 285/25 ZR 22 tyres rear !
A real show-stopper- and a real performance machine, if the owner cares to smoke that expensive rubber!
Holden built a very modified Ute, for those who want such a performance vehicle
Mag & Turbo took the concept even further for one lucky owner.
Nothing wrong with modifying cars- so long as they are properly LVV Certified so they are safe, the owner can handle it, and it's for the purpose intended.