Detailed Drawings and Stress calculations for UNIT SEATS were prepared in 2003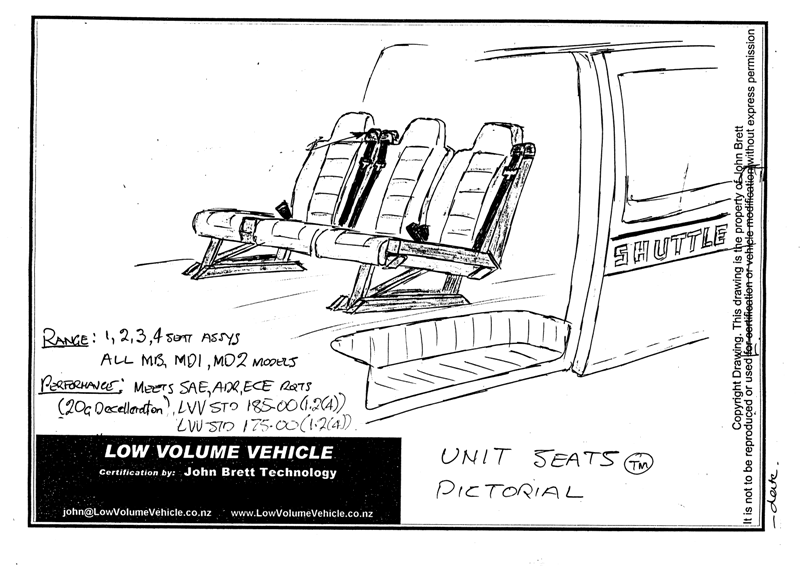 The Unit system built from standardized components, either in Steel or Aluminium alloy.
The Unit System provides three point dual sensitive lap/diagonal seat-belts for each occupant, within the seating system.
(NO Seatbelt anchorages required on the vehicle floor, or sidewalls)
The Unit system also provides ISO child restraint points for each seat
The Unit system mounts directly to the VEHICLE CHASSIS RAIL FLANGES without need for any 'Overfloor Mounting system'.
(The 'Overfloor Mounting system" in Standard 185-00 has never been proven by test or calculation, and involves extensive work to install under vehicles, such as removal, relocation of fuel tanks, exhaust systems, spare wheel carriers etc.)
The Unit system can easily be adapted to any make of van, and installed by anyone who can install bolts and nuts.
The Unit system meets ADR seat and seatbelt sytandards, and LVV Seat Std 185-00 Clause 1.2(4), and LVV Seatbelt Std 175.00 Clause 1.2(4).
The Unit system has never been presented to the LVVTA for approval.